About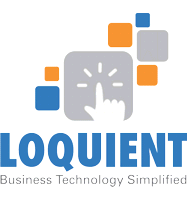 Loquient Tech Source, established in 1994, has maintained its focus to provide all-inclusive, quality computer technology services and computer repair throughout the Greater Kansas City Metro area and Nationwide. Our mission is to build long-term relationships based on strategic growth and efficient management of clients' information technology assets.
Loquient Tech Source engineers are industry-certified and have extensive experience for all business computer technology products and solutions including Microsoft, Cisco, Dell, Xerox, Hewlett Packard (HP) and IBM. By assigning a specialized support team to each customer, Loquient effectively manages all forms of computer hardware, software and business-critical technologies. Loquient's approach and expertise ensures that our clients experience no downtime by continually maintaining equipment, making weekly visits to your office and replacing computer equipment, when needed. At Loquient Tech Source, you are more than just a client-you are family and part of our community. We understand your unique business approach and will add value by configuring and suggesting business technology that ultimately adds to your bottom line.
What We Offer
In today's market, computer and information technology is an integral part of a thriving business. Often, the effective use and availability of computer technology can facilitate a major competitive business advantage. Loquient's certified and professional engineers offer complete business technology and computer repair, support and services in a personal way. Think of it as having your own specialized assistant who knows the workings of your business and the information technology inside and out. Services range from hourly support to monthly service agreements for around the clock service and support 365 days a year. We make it easy for you by simplifying the purchase, maintenance and use of all business computer technology equipment. In addition, we also have the knowledge and expertise to create personalized databases to assist business operations.
Qualified Expertise
Loquient Tech Source engineers have demonstrated proficiency and are certified for all computer systems, information technology products and online solutions including Microsoft, Apple, IBM, Hewlett Packard (HP) and Cisco. Our goal is to provide an all-inclusive computer technology expertise to ensure that your organization or business never experience downtime due to computer repair, configuration or lack of maintenance.
Personalized Service
Loquient Tech Source assigns a primary technology consultant and computer engineer to each client creating a highly personalized experience. Every Loquient Tech Source engineer is part of a technology team to further enhance the ability to manage your growing computer needs. Loquient has established Loquient OneCare, an on-the-spot email request for technology support. The OneCare option will generate a service inquiry ticket, assign a computer engineer and provide a quick response to communicate your needs. Every problem addressed in a quick and efficient manner. No aspect of computer repair or information technology services is too small or too complex.
Who We Serve
Small Business – Small businesses have the same technology needs as large corporations, but have defined budgets that must cover all computer infrastructure expenses. Loquient specializes in maximizing your technology investment to bring about a competitive business advantage. We recognize that effective and efficient business information technology systems are a vital aspect of day-to-day operations within a successful corporation. From email systems to extensive accounting systems and sales tools, Loquient Tech Source engineers have the knowledge and expertise to ensure your technology infrastructure aligns with business objectives.
Corporate – An effective and efficient computer information technology system is a vital aspect of the operations of all corporations to achieve their visions, missions and goals. From communications to extensive record keeping, Loquient Tech Source engineers have the knowledge and expertise to ensure daily communications, workable databases and processes that will assist achieving your goals. We recognize that reliability and serviceability must be in place to achieve exceptional customer service and sustainable growth.
Non-Profit – All non-profit organizations require someone who is knowledgeable and experienced in computer repair or network management for their unique needs. They want someone who is personable, can offer them high visibility in the community and won't charge an exorbitant fee for their services. We offer special pricing and give the same quality and personal service we would provide any growing or existing company.
Individuals – – Loquient recognizes that most everyone in our community has personal computer needs. Anyone who purchases a new computer and software occasionally needs a qualified technician to offer on the spot installation or computer repair. Our certified, experienced and trained professionals can offer application assistance, solve problems, provide server maintenance and software training. Information technology is a common commodity. What is not common is the expertise, knowledge, affordable and personal way in which Loquient Tech Source meets your needs. We are here to assist anyone who has a computer, ultimately, to alleviate computer problems and give them peace of mind that their system is safe and functional.